For those who love beach volleyball, it's like coming home when we finally get to dip our toes in the silky smooth sand. The beach bar, surrounded by beach courts, plays nice tunes and it's the perfect watering hole after a day packed with beach volleyball and cool beach vibes.
The whole venue is built just for you! Grab a ball, and let's go. Only top beach volleyball courts (no mobile Funtec-systems etc.) with plenty of free space around them. Ball stopper nets around each court make sure you spend more time playing than chasing after your balls! We play from sunrise to sunset, and you're always invited for one more set...just one more ;)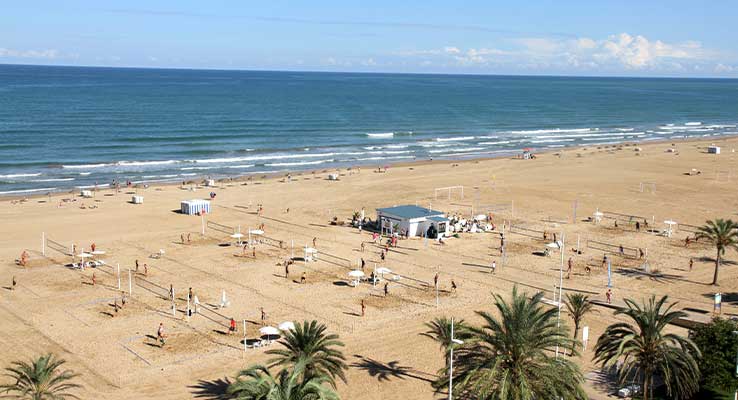 Whether you're a beginner, a hobby player, or an experienced tournament player, our training program is excellent! We fly in selected top coaches who make sure you have fun while giving you the tools to become a better player. You're assigned to a balanced group with up to 5 other players. Together you'll practice five sessions, from Monday to Friday, and since we run two shifts each day it means it is family-friendly as you can take turns watching your kids :)

To give you new perspectives, we rotate our coaches during the week. That way, you travel home with hot tips from at least two of our selected coaches.
Do you want a practice with your friends or a travel group? Just get in touch with us, and we'll help you out.
A Private Session with Your Favorite Coach
Continue working with your favorite coach and focus on something you want to get more reps in. If you can't get enough training and games, private sessions are always available for all our participants. Your favorite coach will teach you the best tricks and tips to become a better player. Talk to your coach to book a private session to make sure you get to the center court next time! You can book a session for yourself or with your friends.
Challenging & Fun Tournaments
Do you like challenges? Participate in our women's, men's or mixed tournaments and challenge the other international players. Fight for the prestigious spots in the final, on center court, with our announcer getting the crowd going as you fight to win. Play, have fun, learn and earn your place at the top of the podium. By the way, we always try to help solo players find a partner in the singles list before each tournament.
Our #homeofbeachvolleyball isn't only for happy hobby players. Every year we're also visited by a bunch of national team players and World Tour stars who are making their final preparations for the upcoming season on the big stage. It's truly inspiring to see our courts filled with every player level, from beginners to the absolute world-class. What about Nils Ehlers and Clemens Wickler, Anders Mol and Christian Sørum, Alexander Brouwer and Robert Meeuwsen, Marco Krattiger and Stefan Boermans, to name a few of the world teams that practiced at our beach arena?! We all gathered at the same place because of our love for the sport and the lifestyle that comes with it. #onelove
Start your volleyball vacation