1920x600-beachcamp-spanien-beachvolleyball.jpg
"Come as a player, leave as a friend"
This isn't just a slogan but our motto that permeates everything we do. We really want you to feel that a vacation or a camp with us is more than just beach volleyball and more than just rewarding training and fun tournaments. What makes our guests come back year after year is the feeling and the vibe alongside the sport. Our recipe for success is all of our after-beach activities where we hang out as people not players, as individuals enjoying life not guests or staff members.
After an intense morning training and the tournament of the day, we often unwind around the beach bar in our beach pillows. A few evenings we run a music quiz or a Sunsational Trivia under the direction of our house DJ. If you can't stop moving, you can challenge your friends, or why not your coach, in Spikeball (roundnet) or a slightly calmer round of Cornhole. We celebrate the end of each training week with our famous Sangria Swim followed by an unforgettable theme party in the beach bar, later in the evening. Let's have fun together!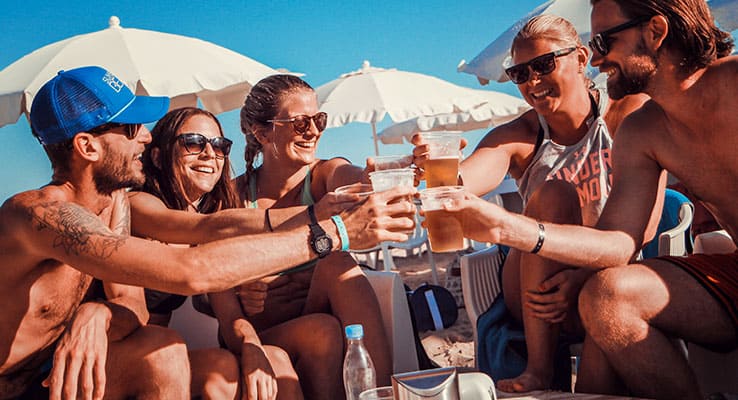 During the summer months (June to August), the relatively quiet beach town is transformed into a real party place with nightclubs and bars filled with thousands of party-hungry Spaniards. During our season, when we fill the nearly empty beach with beach volleyball, there are still several bars and nightclubs to choose from, but most of the nightclubs are only open on weekends. So if you are eager to party all night long, Fridays and Saturdays are the safest bet, it's just like at home.
Every Thursday evening, many of the town's restaurants invite you to a "Destapa" evening. Skip dinner at the hotel for an evening and go downtown to try lots of different small dishes at one or more tapas bars. The prices are extra affordable and therefore many locals also come out for a nice evening.
Mountain hikes with Ibiza within sight
During the week it can sometimes be nice to leave the beach for some contrast. A summit hike to the nearest highest peak of Mount Mondúver (841 masl) is a hot tip, which on a crisp day gives you a view that stretches all the way to Ibiza. Now that's really what you can call a "buena vista" (good view). Another nice summit hike you'll find to the south along the coast. Here we instead set our sights on the top of the spectacular Mount Montgo (753 masl), which is located between the towns of Denia and Javea. Both tours are about 400 altitude meters and are suitable for a half-day excursion, as you'd be starting a bit up the mountain.
Fine Dining in der Marina Alta
If you want to get a top gastro experience then a visit to Marina Alta is a must. In just 30 min by car you get to an area that includes an impressive 13 of the 23 Michelin stars in the Valencia Province. Now that's what we call a place with a sense of taste.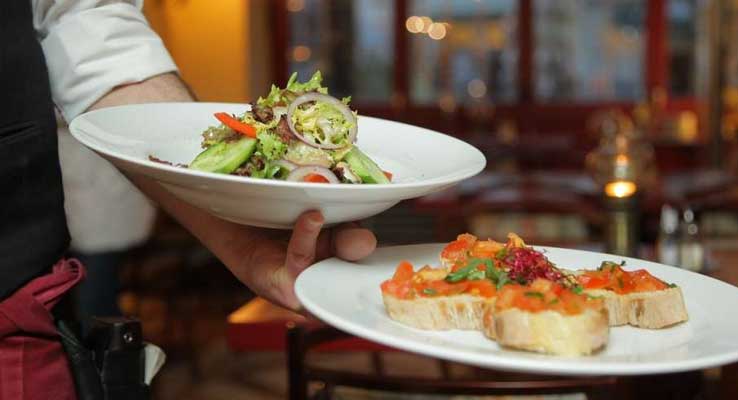 Gandía is a suburb of Valencia, Spain's third largest city. Being a suburb means that public transport comfortably takes you there both by local bus or train. Being a city with over a million inhabitants it offers most of what you can imagine, but we have chosen to highlight some goodies. Regardless, we think that Valencia definitely is worth a weekend trip of its own if you can't or won't combine it with your volleyball vacation.
A stroll through Old Town
Stroll through the old streets in search of the Holy Grail, climb the 207 steps of the Miguelete Cathedral Tower, or enjoy an ice cream in one of the world's best heladerias.
The former riverbed is now a 9km long green space full of secrets to explore. Sport, culture and recreation meet here. Jardín del Touria is actually one of Spain's largest urban parks.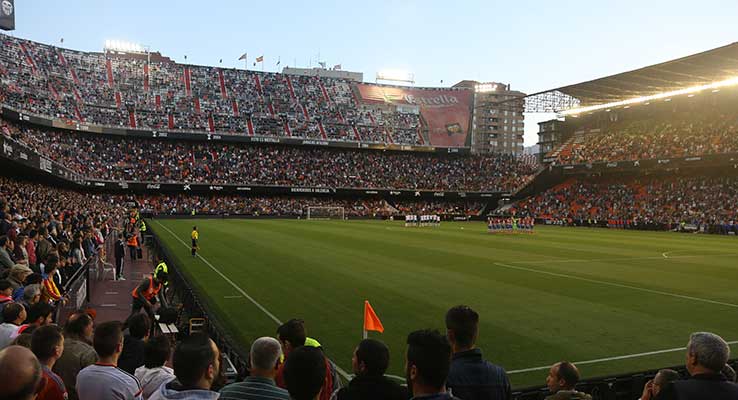 Valencia CF and Levante UD are the city's home teams that both play in the top football league, La Liga (2021). Valencia CF is usually in the top half of the table while, little brother, Levante UD fights to remain in the league. Take the opportunity to watch a home game and experience Spanish football at its best!
In our opinion, Casa Montaña is the best place to eat tapas in Valencia. We first got the tip from our friends from Granada, the tapas capital of Spain. The restaurant, which is located in the old fishing quarters, serves only the very best ingredients for the season and the service is always on point. The food isn't cheap, but affordable when considering the quality and definitely worth a visit.
Closest to our beach arena are a number of beach and souvenir shops. Here you'll find everything from the shoe store to the store that has everything for a day at the beach, but also pharmacies and basic grocery stores. If, on the other hand, you are eager to go crazy in a shopping center or bargain in one of the city's local shops, you're only 7 km away by bike, bus or car. Shop around in the cute specialist shops or the more well-known international brand stores. The La Vital shopping center doesn't close until 22:00, which means after beach shopping is readily available for you.
Speed Ferry Cruising to Ibiza
Since 2019, Gandía and Ibiza are connected by a regular high-speed ferry, which takes you to Ibiza in less than 3 hours. For those of you who have a longer stay in Gandía it means that you can go on a vacation from your vacation, to discover this so talked about and very scenic party island.
The local tennis club is located just a few hundred meters from the beach. The club offers 15 clay courts and seven Padel courts at very reasonable prices. Talk to us on site when you want to book a court. If you're a group that wants to practice more regularly we can also help you book a local coach in either sport. Should the weather unexpectedly get wet, there are also indoor Padel courts within a few minutes drive.

Camp Padel
If you're a larger group or a club and want to organize a group trip with Padel under the sun, you are most welcome to contact us to take a closer look at your requirements. We can help with everything from booking flights to courts and local coaches. Contact david@volleytours.com for more information.