Beach volleyball in a dream setting on Germany's largest island. Work out in the sand for a week and pick up a few tips for your game.
SKILL LEVEL
Beginner to tournament player
PARTICIPANTS
Single players, teams, groups
Welcome to Rügen's, Tikki Beach
Be there when we setup our beach volleyball courts, on one of the most beautiful beaches in the Baltic Sea, this summer. The combination of the beautiful and relaxing Baltic Sea flair and the Tiki Beach atmosphere gives you a feeling of being in the South Seas. Choose between and combine volleyball, culture and culinary delights to make your vacation a real summer treat.


Read more about what`s included »
During the camp week you'll improve your game with our coaches in the daily training sessions and spend the rest of the day playing with your friends and the other players. We look forward to welcoming volleyball players of all levels to this camp: Beginners, hobby players and advanced tournament players!
Read more about the camp »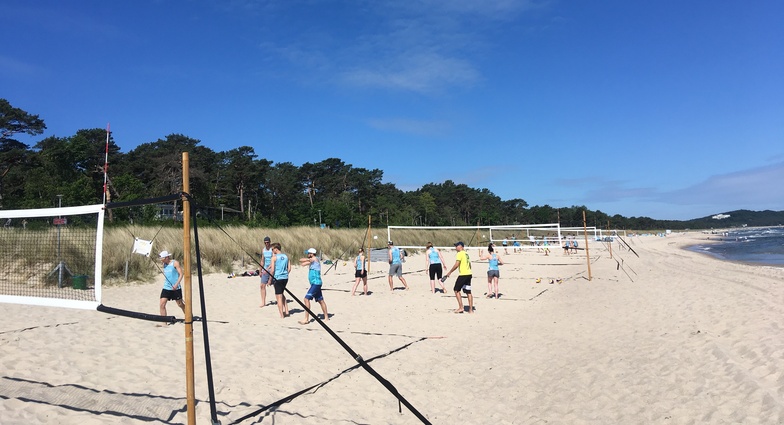 Accommodation - Your Campsite
The Baltic Sea flair, the dreamlike landscape of the surroundings and the exclusive equipment are trademarks of the 7-Sonnen-Ferienanlage in the Baltic Sea resort Göhren. Whether you're traveling with a camper van, caravan or tent, you'll always find a perfect pitch on the spacious vacation complex in the middle of the beautiful coastal forest.
In addition we can offer you two different camping cabins, available in our online booking. If you'd prefer booking your own accommodation then simply book the camp without the cabin.
Read more on accommodation »
Göhren is located in the southeast of Rügen, on the beautiful peninsula Mönchgut. Only a narrow coastal forest separates our accommodation from the beach area and one of the most beautiful beaches of the island. Here you should expect a Baltic Sea flair, the finest sandy beach, great courts and a distractingly nice panoramic view.
More infos on Göhren/Rügen »
When you're done with volleyball for the day there are loads of options to fill you days. Directly after the beach why not kick back with a sundowner drink in a chill atmosphere and or head out for dinner together in Göhren.
At our basecamp we're looking forward to BBQ's, chill evenings and perhaps watching a cool top movie in the cinema, reserved especially for us.
If you'd need a bit of a break you can go exploring on beautiful trails in the surrounding area. If you stay longer, we also have a couple sightseeing tips for you.
Up to 14 days Before Your Arrival
We offer all customers free rebooking on all of our destinations with arrival dates in 2022, the rebooking must be done at least 14 days before arrival. You are welcome to rebook your trip to any camp with an arrival date within 12 months from the rebooking date. This is an added flexibility when Covid-19 is the reason for rebooking.

For those of you who want to rebook, but can not really decide on when and where, we also offer travel vouchers and thus giving you a little more time to decide. Just get in touch with us if you have any questions.

NOTE! If you book your trip now we also offer free cancellation, if the cancellation reason is Covid-19, up to 14 days before arrival.
Your beach experience starts here