Sunsation Festival Spanien
SUNSATION BEACH VOLLEYBALL FESTIVAL
Exclusively for you, 30 premium courts are built and maintained. Play as much as you want!
SUNSATION BEACHVOLLEYBALL FESTIVAL
SUNSATION BEACHVOLLEYBALL FESTIVAL
Play beach volleyball
Combine sports & vacation
Experience beach volleyball
Whether you are a beginner or already a solid hobby player. Meet up with others and join the action in the sand.
Party
Free entrance every evening. Karaoke, electro, salsa & more. Cool drinks in the bars and clubs.
Play tournaments
It gets down to business every afternoon. Play with or against your friends and fight to be at the top of the podium.
Training
For beginners, hobby players and tournament addicts. With the best coaches from around the world.
Beach atmosphere
Meet people, find friends
Life vibrates at the beach bar. We provide good music, cool drinks and a unique atmosphere every day, all just next to the courts.
Sangria-Swim
A dreamy beach, refreshing sea, a nice bar, great atmosphere. What more could you ask for? Sangria in one hand and a volleyball in the other, of course!
1. Week: 12.09 - 19.09.2021

2. Week: 19.09 - 26.09.2021

3. Week: 26.09 - 03.10.2021

4. Week: 03.10 - 10.10.2021

5. Week: 10.10 - 17.10.2021
Beach volleyball, Training, Tournaments & Parties
Exclusive beach area for Volleytours guests
play from sunrise to sunset
tournaments every week for all levels
at least 3 parties every week
training for hobby & tournament players (also beginners)
small training groups with max. 6 players
only 50m from the hotel to the courts
daily fresh fruits and drinking water
beautiful chill-zone & great beach club feeling
Beach DJ, fun-zone, soccer golf, cornhole, beach tennis
free ball rentals (Mikasa VLS 300)
Many accommodation options for all travel budgets
a perfect volleyball vacation spot in the sun
beach, fun, learning beach volleyball, parties, excursions & much more
come as a player and leave as a friend
Winner of Sports Tourism Award Spain
International festival at the most beautiful beach volleyball spot in Europe. With participants and coaches from all over the world. An award-winning premium event, on the coast south of Valencia, welcomes; single players, teams and groups.

Book today: You can choose your travel period freely and the Camp pass is available including several accommodation options in hotels or apartments.
Measuring in on 120 meters wide and over 7 km long, Sunsation Beach on Costa Blanca (white coast) reaches as far as your eyes can see. The gently sloping, silky and bright sandy beach resembles Santa Monica with its palm-lined promenade. You don't have to bring balls, they're already here. Just like drinks and fruit, free of charge at the beach bar. In the afternoon, the beach DJ plays live for you. The chill area and beach bar invites you to relax after your training or matches. By the way: The courts aren't only Olympic dimensions, in terms of the buffer zone and court setup, our Court Manager also ensures that everything from the ball stopper nets to the antennas, stays in perfect condition. All this is only found at Sunsation Beach, exclusively for Volleytours guests, our #homeofbeachvolleyball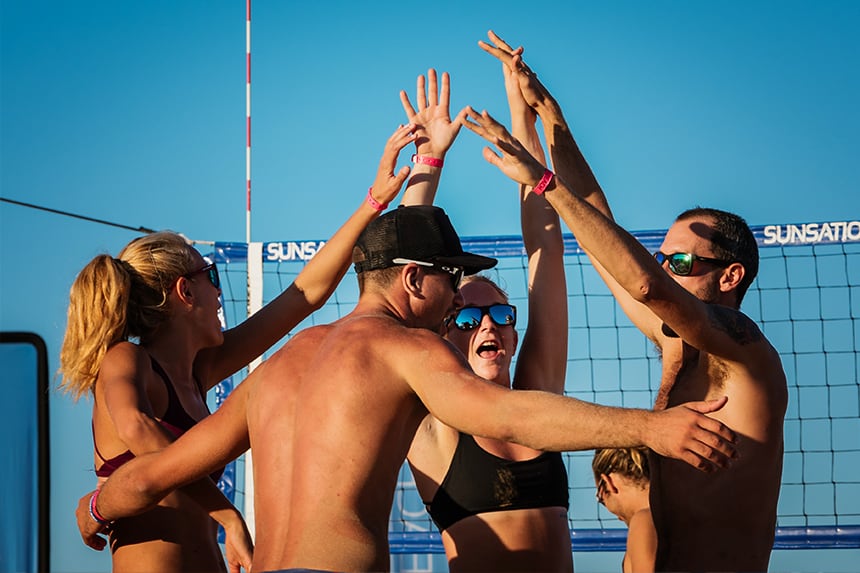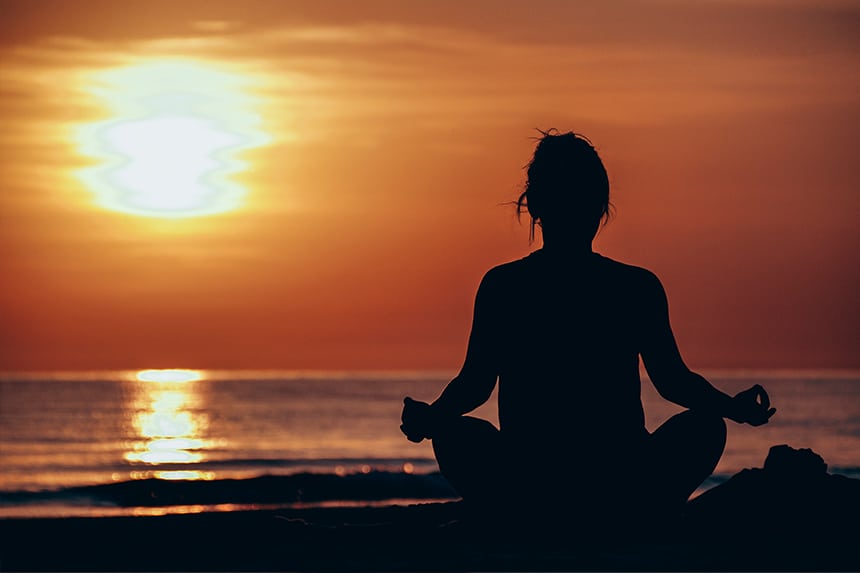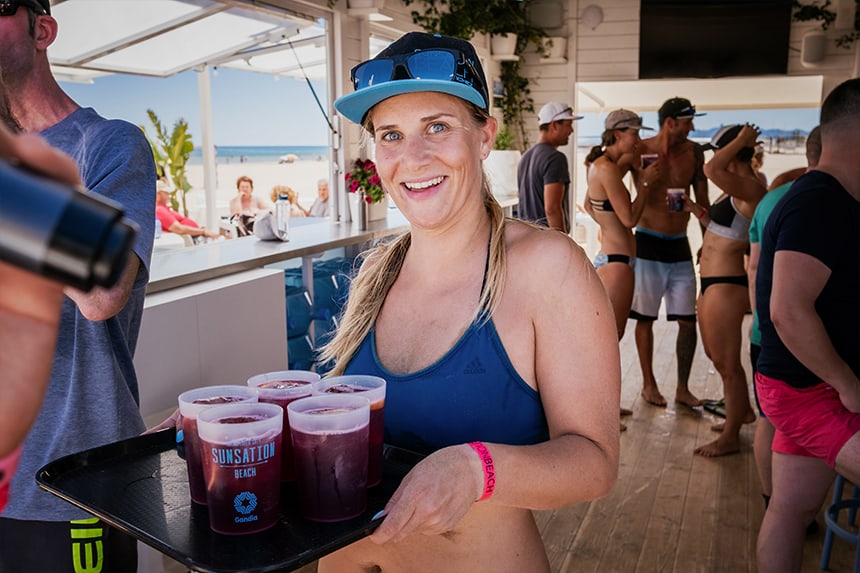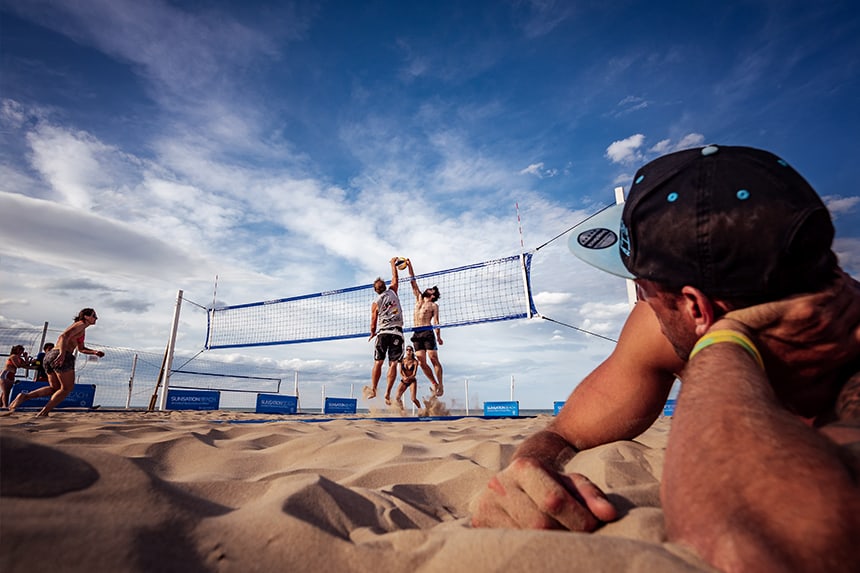 Strand-Spanien-Beach-Volleyball.jpeg
beach-volleyball-camp-spikeball.jpeg
Beach-Volleyball-Camp-Friends-Teams.jpeg
Sunsation-Beach-Camp-Yoga.jpeg
beach-volleyball-alicante-underview.jpeg
beach-volleyball-camp-sangria.jpeg
beach-volleyball-spanien-game.jpeg
beach-volleyball-chill-sunsation.jpeg
The best hotel in town, located at the beachfront with views of the courts is our absolute recommendation! The 4-star hotel provides views of the mediterranean sea with jaw dropping sunrises, 2 swimming pools, one of which is a laguna pool, free WiFi and includes the use of the hotel SPA.
The rooms are spacious, well-lit and ensure that you feel comfortable during your vacation. Booking your camp pass with accomodation at Bayren Hotel & SPA lets you choose between buffet style full- or half-board - water and house wine included.

Visit the hotel website >>
hotel-bayren-spa-spanien-sea-view
hotel-bayren-spa-spanien-desk
hotel-bayren-spa-spanien-front
hotel-bayren-spa-spanien-rooms
hotel-bayren-spa-spanien-front-pool
This 3-star-Hotel is located in a side street, about a 5 minute walk from the courts.
The Hotel Safari is perfect for budget-conscious beach volleyball players who value clean, economy style rooms. The camp pass includes half-pension with breakfast and dinner buffet.
Visit the hotel website >>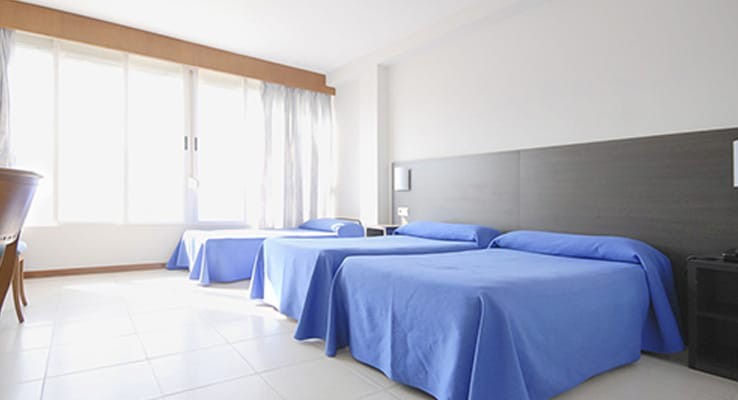 hotel-safari-gandia-rezeption.jpeg
hotel-safari-gandia-room2.jpeg
hotel-safari-gandia-lobby.jpeg
hotel-safari-gandia-room3.jpeg
hotel-safari-gandia-restaurant.jpeg
Our economy saver tip! Our holiday apartments are located within a 10 minute walk from the beach courts. All apartments are self catering and offer; 2 bedrooms, living room with a dining area, fully equipped kitchen and 2 bathrooms. They are all completely furnished and bed linen and towels are included. A supermarket and various restaurants and bars are all located within walking distance.
If you're traveling solo, you have the choice between a single room or a double room that you will be sharing with a player of the same sex. Couples or friends can book double rooms in a shared apartment.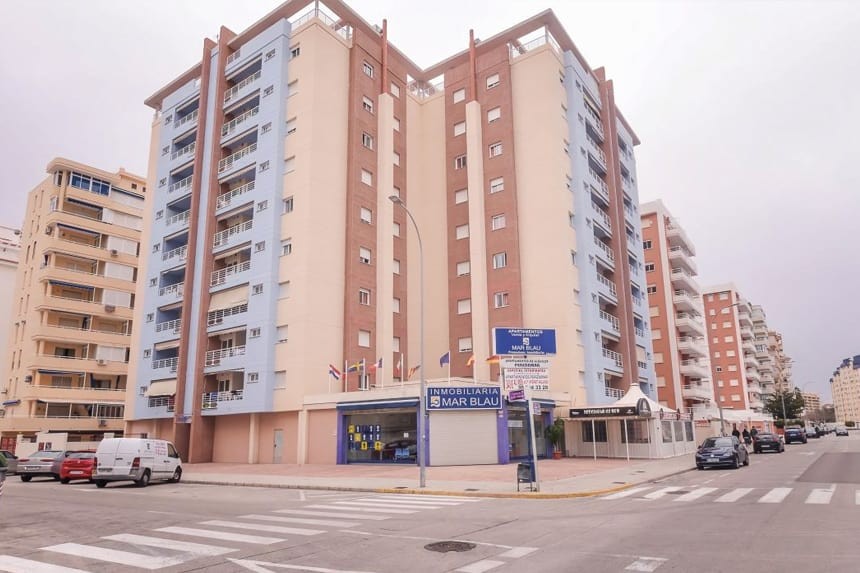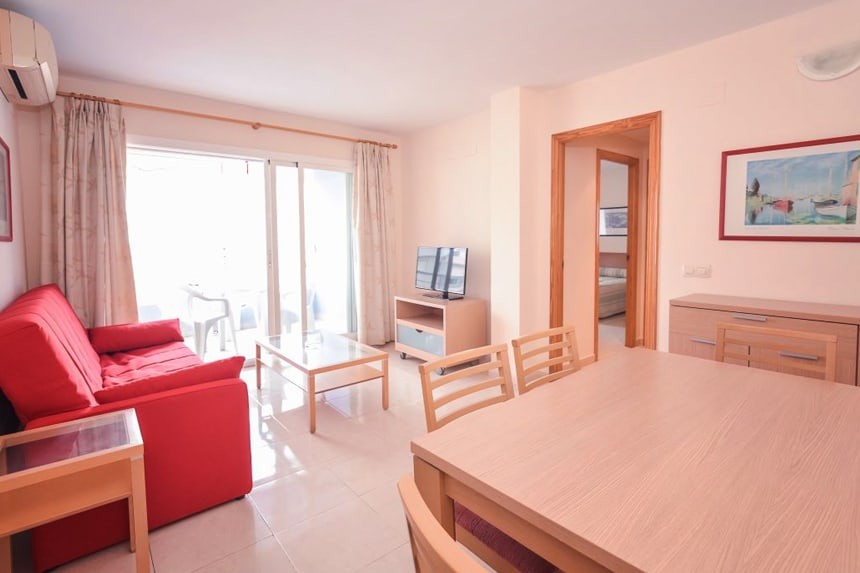 beach-camp-feWo-schlafzimmer
beach-camp-sunsation-ferienwohnung-pool
beach-camp-volleyball-apartments
beach-camp-Gandia-Ferienwohnung
beach-camp-Costa-blanca-Ferienwohnung
beach-camp-fewo-valencia-kueche
beach-camp-spanien-ferienwohnungen
beach-camp-badezimmer-fewo
Whether you're a beginner, hobby- or experienced player, our beach volleyball training is right for you! We fly in our top coaches who make sure you have fun while improving your skills. You will be placed in a group with a maximum of 5 other players on a similar skill level. You will practice together 5x 2 hours, from Monday to Friday. Your personal coach, balls, water and lots of activities are included. Of course you can practice with your friends or together with your group. Just let us know!
Does the beach feel like home? Does a ball crossing the net give you a sense of freedom? Then you will love Sunsation Beach because with more than 40 courts on flat silky sand, it's the absolute beach volleyball hot spot. Besides playing beach volleyball, you will enjoy a chill vacation with your extended beach volleyball family. Relax in the hammocks in the chill zone or work out and play in the fun-zone. In the evenings, you can relax at the beach or enjoy a drink in our Volleytours beach bar.
Do you love a challenge? Participate in our womens', mens' or mixed-cups and challenge players from around the world. Everyone's goal is to play the final at our center court with the moderator cheering on the crowd as you fight for the big win! Play, have fun, improve your skills and earn your spot at the top of the podium.
By the way: Solo players can find a partner in the singles' list for each tournament.
Take your game to the next level! If you just can't get enough, at Sunsation Beach, you have the chance to book additional private training sessions. Your favorite coach will teach you the best tricks to improve your beach volleyball skills and technique. Book your individual session to make sure you leave the court as a winner next time!
The best part: You can book a session alone or with your friends - the price stays the same!
Beispielwoche
Our live Beach DJ plays cool beats for you every afternoon. After playing, you kick back comfortably at the beach bar, where you watch the professionals during their late training sessions or just hang out and mingle. Our social manager also ensures a colorful social activity, every day is "funday". From the pop quiz to the beach Olympics and not to forget, the legendary Sangria swim!
There are numerous bars and restaurants, just next to Sunsation Beach, that are worth exploring. From the cozy beach café to the international sports bar with live broadcasting to the excellent fine dining restaurants. Most of the the spots are within easy walking distance.
Life is vibrant at Sunsation Festival. Our party managers are not only organizing three parties a week, but also great variety of social activities in the evenings. Tapas night, karaoke, speed mingle. We definitely have something for everyone. Did you know that the party scene in Playa Gandía can host more than 30,000 party people?
You are responsible for organising your trip to Sunsation Beach.
The closest airports are located in Valencia and Alicante. Both are a 50-80 minute drive from Gandia.
You can find good airfare prices online at www.google.com/flights or Skyscanner, for example.
We offer a shared airport shuttle (only on weekends on selected weeks) as well as a private transfer service, from both Valencia and Alicante airport. The service is available as long as flights are arriving at the respective airport. 
A taxi from Valencia airport costs about 100€ (one-way) and about 170-200€ from Alicante airport (one-way). 
Public transport from Valencia to Gandia takes about 2 hours with the day timetable.
If you prefer being flexible and would like to see more of the surrounding area, renting a car might be a good option. Use Check24, for example, to compare offers worldwide. 
Note: Read the rental car companies' policy conditions carefully and pay special attention to the free kilometers. An offer that appears to be a good deal can quickly turn out to be expensive. 
The address for your arrival destination is: Passeig Marítim de Neptú, 60, 46730 Grau i Platja, València, Spain
The Camp Pass includes all beach volleyball related services as well as the social activities, excluding the training sessions. The Pass includes accommodation. The basic price shows the cost for a shared double room in a holiday apartment, without board. If you select a different type of accomodation, the price will change accordingly.
Beach Camp Pass, from 240€ per person
| | Holiday Apartment (price p.p and night) | |
| --- | --- | --- |
| | 3-Bedroom-Apt for 7 guests | €40 |
| | 3-Bedroom-Apt for 6 guests | €44 |
| | 3-Bedroom-Apt for 5 guests | €48 |
| | 3-Bedroom-Apt for 4 guests | €58 |
| | 3-Bedroom-Apt for 3 guests | €60 |
| | 3-Bedroom-Apt for 2 guests | €85 |
| | 2-Bedroom-Apt for 5 guests | €42 |
| | 2-Bedroom-Apt for 4 guests | €44 |
| | 2-Bedroom-Apt for 3 guests | €48 |
| | 2-Bedroom-Apt for 2 guests | €75 |
| | Shared Double Room | €49 |
| | Double Room in Shared Apartment | €45 |
| | Single Room in Shared Apartment | €75 |
| | Hotel Safari *** (HB) Price p.p. and night | |
| --- | --- | --- |
| | Double Room with single occupancy | 100€ |
| | Double Room | 65€ |
| | RH Bayren Hotel & SPA **** (HB) price p.p. and night | |
| --- | --- | --- |
| | Triple Room | €78 |
| | Triple Room (Side Sea View) | €85 |
| | Triple Room (Sea View) | €90 |
| | Double Room | €87 |
| | Double Room (Side Sea View) | €94 |
| | Double Room (Sea View) | €100 |
| | Shared Double Room | €90 |
| | Single Room | €110 |
Half board includes water and house wine free of charge with each meal. One SPA-visit (Mon-Fri, 1hr) is included in the room price. Upgrade to Full Board: €8 per person/night. The upgrade is only possible per room.
Infants up to 1.99 years are free of charge and get an infant bed in the room. From 2 to 11.99 years children only pay 50% of the offered prices, when sharing a double room with 2 adults. From 12 years children are paying full price.
| | Bookable and payable in advance. Price/person | PRICES |
| --- | --- | --- |
| | Beach Volleyball Training (Mon-Fri, 5 Days: 2hrs/day) incl. balls | € 169 |
| | Airport Transfer VLC/ALC (one-way) | € 40 |
| | Half Board buffet-style at the SPA-Hotel for Apartment guests (per person/day) | € 32 |
| | Bookable and payable on location. Price p.p. | PRICES |
| --- | --- | --- |
| | Private Training Session (1 hour) | € 60 |
| | Airport Transfer VLC/ALC (one way) | from € 60 |
| | 1 x Breakfast buffet at the SPA Hotel | € 15 |
| | 1 x Lunch or Dinner Buffet at the SPA Hotel | € 20 |
To make sure we can provide you with an Airport transfer we need your flight details at least 72 hours before your flight.