Sri Lanka 2019
Discover Sri Lanka! We bring you an awesome combination of beach volleyball, surfing and sightseeing at one of the most beautiful spots in the world. Wether you want action, relaxation, comfort or an economy travel, Beach Camp Sri Lanka has it all.
Jungle Beach Ahungalla
An endless beach, perfect weather and a fascinating way of live. Explore beach volleyball, be the next big kahuna at the Indian Ocean. At the Jungle Beach Ahungalla you will get culture, fascinating wildlife and a unique possibility for sports.

Choose your favorite from; glamping tent, bungalow, Villa or Guest House. We also offer "camp only" packages upon special requests. Stay active with beach volleyball, wave surfing, sightseeing or simply relax.
Beach Volleyball in Paradise
Stay the whole day at our perfect beach volleyball courts at the beach with ideal conditions for your game, take a refreshing swim in the indian ocean, or just sit at the bar and have a coacktail under the palm trees. At the Ahungalle Djungle Beach we provide you with an energizing lunch so that you can power through the whole day of sports and adventure. We do not offer standard training groups, but of course you can book private training sessions with our awesome coaches travelling with you to Sri Lanka.
Wave Surfing on the Indian Ocean
Do you love to surf? Paddle out in the warm blue water to catch some nice lefty before you break for lunch and join the beach volleyball practice. Next to Ahungalla you will find Weligama and Hikkaduwa, two perfect spots for surfing. If you wanna learn how to surf the waves like a pro we help you get started with all the good stuff; surfboard, coach, transfer. Hang loose!
Sightseeing
Sri Lanka has an incomparable culture experience. We offer you the opportunity to visit some of the most beautiful sights with us. You can book your sightseeing trip online at the time of your booking or add individual excursions during your stay with us. Create your own adventure!
Tea Plantation (€20) - Visit an original tea plantation and learn everything about the production. We continue to explore Fort Galle with its colorful history. €20/person.
Maduganga River Safari - Explore the morning glory of the Maduganga River with an unforgettable boat trip through the mangroves. €15/person.
Sinharaja Forest Reserve - Sinharaja is the country's last viable area of primary tropical rainforest and UNESCO World Heritage Centre. €65/person.
Rafting & Adam's Peak Hike - Rafting in one of the rivers of Sri Lanka and drive to the most popular mountain. 5.200 steps takes you to the top to see the foot print of God, they say. €75/person
Whale Watching - Take part in a unique offshore experience. (on request)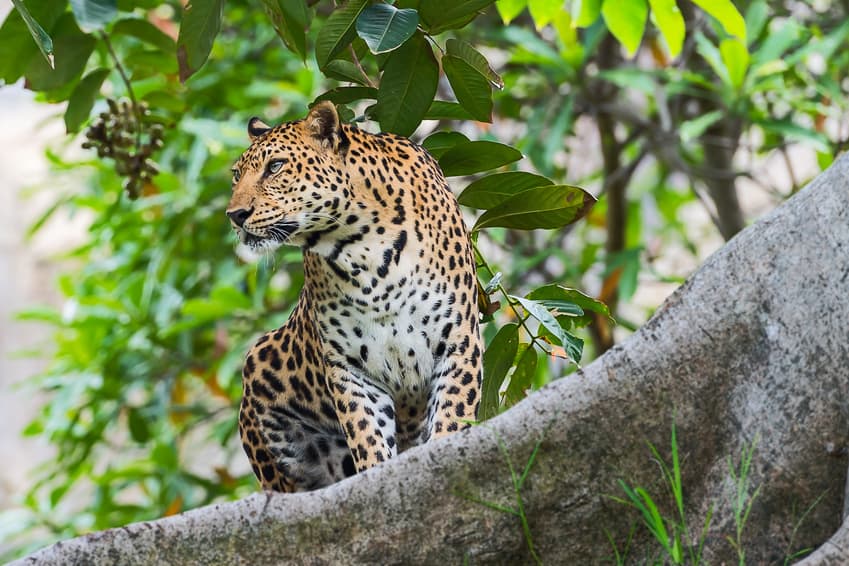 Our recommendation: Yala National Park, the most famous reserve in Sri Lanka. The large population of Leopards is unique and offers a special experience for the visitors. €75/person.
Full Board is Included in Your Package
When booking accommodation as a part of your package we include full board in the price. This means that you will be served great food at the Jungle Beach Restaurant. The food that is served will be a mix of local specialities and European classics. 
Breakfast Buffet
Kola Kenda & Hakuru, Fruits or Fruit Salad, Bread roasted, Bread unroasted, Toast, Butter, Jam/Marmalade, Nutella, Fried Eggs, Omelette, Boiled Eggs, Scrambled Eggs, Müsli, Corn Flakes, Fresh Milk, Cheese, Sausages, Salmon, Tea & Coffee
With daily specialties like; Pineapple Juice, String Hoppers, Dhal Curry, Coconut Sambal

Lunch Menu Examples
Day 1: Yellow Rice Chicken Black Curry Dhal Curry Papadam,
Day 5: Red Rice Fish Ambul Coconut Sambal Lady Fingers Curry Ice Cream

Dinner Menu Examples

Day 3: Spaghetti Napoletana or Carbonara, Mixed Salad, Fruit
Day 4: Egg Noodles, Devilled Cuttle Fish, Grilled Banana with Ice Cream
Glamping Tent, Bungalow or Hotel
In your Camp pass we do not include accommodation. This means that you have the freedom to choose whether you want to stay in one of our clean bungalows, a glamping tent or a hotel of your choice. As a single traveler you can also book a shared accommodation, this way you save money and meet new people. The bungalows and glamping tents can be booked directly with us. Hotels are booked separately. Please note that your camp pass already includes lunch at the Jungle Beach.
Getting to Ahungalla Jungle Beach