When exploring Crete, the largest Greek island, we found a real insider tip for you. Far away from the large and generic all inclusive resorts together we will enjoy the tranquility of Plakias beach, surrounded by the mountains and the sea. Experience the true Greek lifestyle on the the pearl of the Mediterranean, make an escape with friends to our new beach volleyball camp and spend a week filled with great training, food and fun.
Included in your Beach Camp on Crete
1 week beach volleyball camp in Plakias on Crete, Greece
Amazing scenery on a dreamy beach location 
10 hour training in small balanced groups
maximum 30 participants (beginner, hobby player and advanced)
Top courts, sand and Mikasa balls
free water for you training
Accommodation in self catering Paligremnos Studios
An varied and fun week activity program
Our Beach: Plakias on Kreta, Greece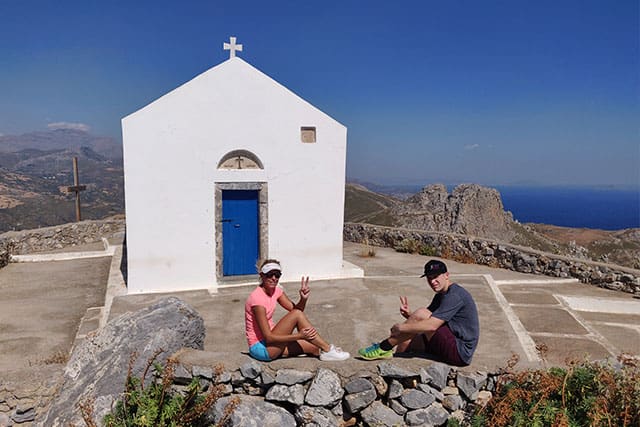 Still in 1961, Plakias was a village of just six fishery families and even today our local secret is home to no more than 300 people. The main beach of Plakias is about 1.5 kilometers long and it's surrounded by endless mountain ranges. This is the perfect place to let all the stress from home drift away and give your body and mind chillax. Enjoy the beach, be yourself in a lighthearted atmosphere and play beach volleyball until the sun sets over the mountains taking a dip in the sea.
Our Accommodation: The Paligremnos Studios
The family-run and cozy Paligremnos Studios, located at the very end of the sandy beach of Plakias, has just 18 rooms. The accommodation is rated "fabulous" on booking.com and can be booked for up to four people. The self-catered rooms have free Wi-Fi and a balcony, overlooking the Cretan Sea or the mountain range. All rooms have air conditioning, a well-equipped kitchenette with a fridge and coffee maker and a dining area. The rooms also have a private bathroom with shower.

The traditional restaurant serves regional cuisine indoor or in the garden.

Free private parking is available on site.
Beach Volleyball & Training
We look forward to welcoming beach volleyball players of all levels to our Greek pearl. Beginners, jollyballers and tournament players will all get what they need to improve their game. To accomplish this we create small training groups with a playful and gamelike training philosophy. In the morning we train for two hours. In the afternoon you choose between free play, additional private trainings or simply chillaxing on the beach.

At the end of the week everyone is in for a challenge in the big final tournament.
The motto for our Beach Camps is "Come as a player and leave as a friend".
Because of this we value the side events with you nearly higher than our time together on the courts. Whether it is; an excursion in the mountains or by the sea, a mountaineering or bike ride, a social camp dinner or just a fun evening at the beach bar, we have loads of ideas and together we choose what we feel like doing. Could it be you also only wanna spend the sunny days on the beach court?
Getting to Crete and Plakias
On Crete there are two larger airports. You organize your own transportation to the camp. Book your flights to Chania (CHQ) or Heraklion (HER). From there a rental car is your best option. Saturday and Sunday have been planned as arrival days to give you more flight options and less time pressure. On Sunday afternoon we play a friendly and social welcome tournament. After a week filled with fun activities your departure is planned the following weekend.
Prices for our Camp on Crete
* All prices are per person and the camp pass with training includes accommodation for 6 nights. Extra nights can also be booked as a supplement.