Beach Volleyball Camp
Berlin
Week 1:   September 14 - 18, 2020
Week 2:   September 21 - 25, 2020
Training and playing at Europe's largest urban facility
Vacation in Germany's historic capital

Play and train in the heart of the city

Beach volleyball training in small groups

Original Mikasa VLS300 balls free rent on site

Relaxed atmosphere and friendly people
Play ball in the heart of Berlin
The "Nearby-vacation" camp for all beach volleyball players. Here we bring the training camp closer to you! At BeachMitte, in the heart of Berlin, the courts are reserved exclusively for you from Monday to Friday. Whether you just like to play or want to enjoy a great training week, we are here for you. In the evenings you can explore the historic capital or kick back with us, the coaches and the other players at the courts.
Play beach volleyball on 47 beach courts - that's BeachMitte! Blue skies. Lined with green. Golden sand as far as the eye can see. 20,000 m² to make you sweat, a lounge bar to kick back. Find your peace in the center of all the urban hustle and bustle of Berlin. In the heart of Berlin. BeachMitte.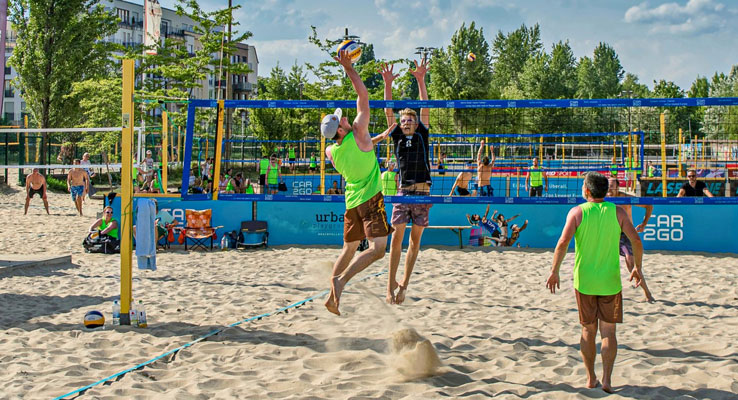 Berlin has a lot to offer. From the Brandenburg Gate to the red town hall, the former wall or the KaDeWe. Tip: With the "
Berlin Welcome Card
" day and week visitors receive discounts at numerous tourist attractions and museums.
Beginners, hobby players or experienced tournament players. Our training will challenge you at your experience level! Improve your game with a lot of fun under the guidance of the best coaches. With a max. of 7 other players, in a similar level, you get up to 8 training sessions. Exclusive coaches, balls and fun activities are included.

On Wednesdays you only play or book private training sessions for an even more intense beach volleyball experience.

Of course, you are always welcome to request each other in a training group or create your own training group with a group of friends.
With us at the beach volleyball camp, the courts are reserved exclusively for you as a Volleytours' guest. So you can play a lot with your friends or challenge other players. You borrow balls for free.
Getting there & Accommodation
Numerous direct connections by train, two airports and well-developed motorways. Berlin is definitely a central transport hub. Perhaps you prefer to travel by Flixbus? No matter how, you organize your journey and overnight stay on your own. If you need help, please send us an email and we'll do our best to assist you.
Welcome dinner in the evening for all arrivals (at self cost)

10:00 -16:00 Training & Playing
(Wednesday no training, optional workshops)

16:00 Finish. Evening departure or on Sunday.
Enjoy your vacation, we will take care of the rest. Current information on booking and COVID-19 regulations:
As fellow travellers we understand how the past months have left most people feeling unsure about trusting the travel industry. Because of this we have decided to remove the prepayment requirement on all of our camps for the time being. As soon as the we see things normalizing we will go back to our normal terms and conditions.

What does this mean really?
It's as simple as it sounds. You book, you travel and after you've left we ask for your payment. This means you avoid paying for a trip that is cancelled. If you book a trip more than two months in advance we only need a deposit of 20% of the full amount.

Please contact us if you have any questions.
Infection protection and regulations
30 hours of beach volleyball per week. Reserved courts, free balls for rent. After beach program, optional workshops (supplement) and much more.
Only sold in combination with the camp pass: 8 x 1.5 hours training, in a small group with your own coach.